Posted on 22. Feb, 2011 by Shawn Murphy in Change In Action, People & Change, Strategy & Change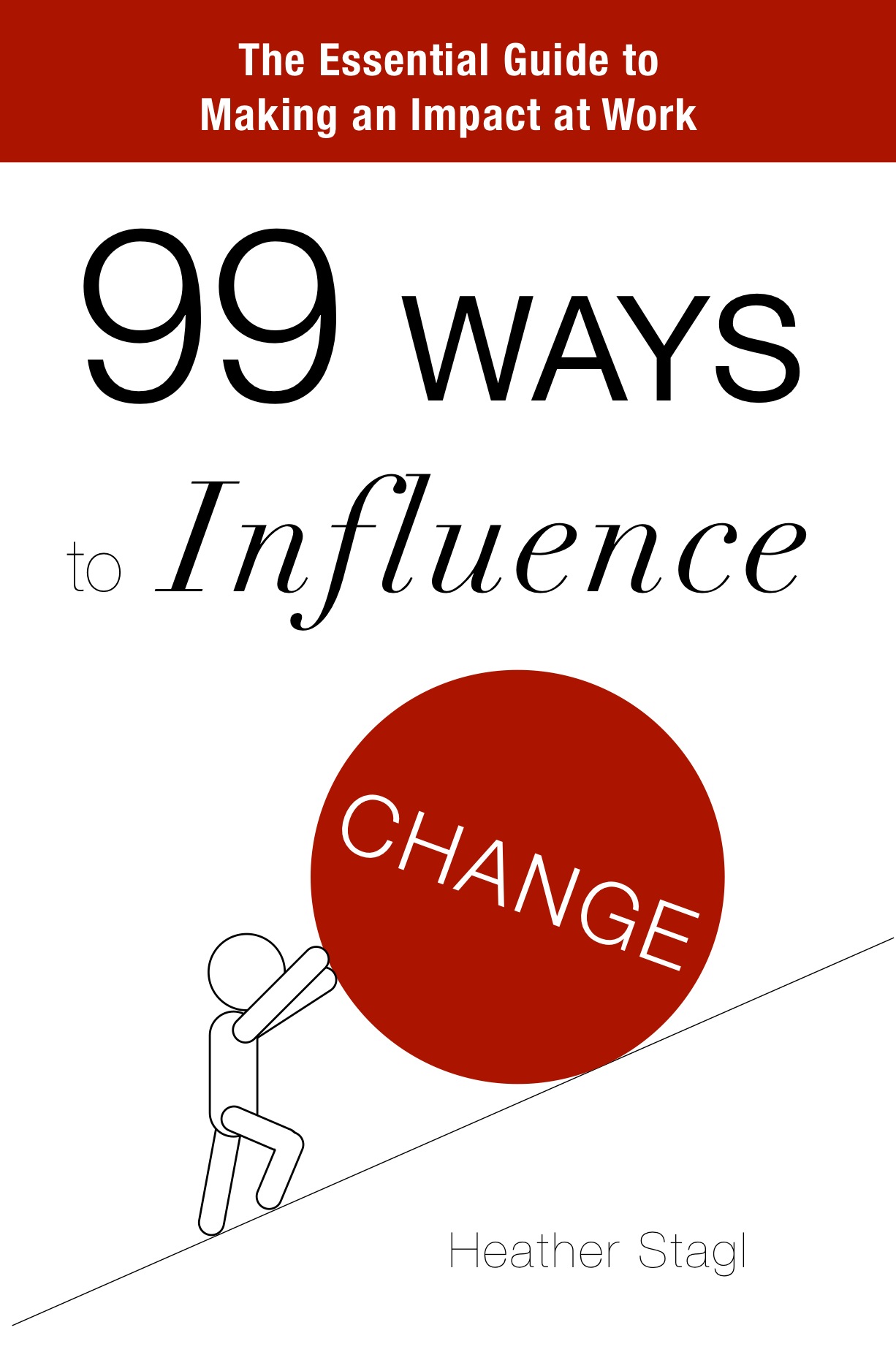 I'm an unabashed advocate for a much-needed shift in how leaders show up to inspire people in this post-Great Recession era (The New Normal).  The complication of my advocacy is helping people understand how to lead newly in the New Normal.
Well, I am thrilled to share with you a book that does just that – Heather Stagl's 99 Ways to Influence Change.  If you're tired of banging your head against the proverbial wall because change isn't sticking, then 99 Ways will show you how to invite collaboration into your change effort.
There's a common thread that is woven throughout the 99 ways – it's people.  Heather reinforces that change is about people.  And the change leader's role is to help people accept, advocate, get unstuck, be informed, or move on.
I plan to use the book to help plan and reignite change programs with our clients at Achieved Strategies. I invite you to do the same.
One last thing before I explain how you can get a free copy – it's my favorite thing about the book:  Heather includes a range of change approaches from inclusive to edgy.  Here area few of my favorites
On the inclusive end:
Provide feedback – Find creative opportunities to let teams, individuals, and the organization know how change is progressing.  Heather's approach made me think about using video to give status updates to the organization.  The updates would come from individual contributors up to senior managers. Different approach from the written word.
Show others are doing it – Create vicarious experiences showing how good things are for others who have already made the change.
On the edgy end:
Ridicule – Really? Really. This approach should be used carefully, but can be very effective when used with a group or team whose members are familiar to you.  You must know the people, and the intent isn't coercive.
Generate scarcity – Seems manipulative.  Heather, though, shows how to use it effectively.  I like this approach for a short-term radical change.  Imagine removing access to a tool that has exceeded its usefulness, but used as a crutch because it's familiar.  Tough love, but effective.  Just be sure people know what you're doing and prepare them for the removal of the tool.
How to get a free copy
I have three copies to give away to our readers.  Here's how you can get a copy.
The first three people who explain how they'd use Heather's book gets a copy.  The key here is to explain how you'll

use

the book.
General comments don't count.
So, below, share how you'd use the book.  You just may win a free copy of this important book.
Thank you, Heather, for sharing your experience and wisdom with us!